We know that whenever you take a trip it's important that you get to your destination safely, seamlessly and on time. On the rare occasions things don't go to plan, we're here to help. If you feel that our FREENOW service hasn't met your expectations, the best place to start is our Help Centre. If you can't find what you're looking for, or you'd rather speak to someone, try reaching out to our support team by submitting a request.
If you've already been through these steps, or you're unhappy with the support you received and wish to raise a formal complaint, you'll find information on how to do so below.
How to submit a formal complaint
A formal complaint needs to be submitted via the form below. Formal complaints cannot be submitted over the phone.
Your completed form must include the following information;
The email address attached to your FREENOW account (if applicable)

The country the complaint concerns (where you took your trip/the incident happened)

The service that was used (e.g. Taxi, PHV Ride or eScooter)

Who you are (Passenger, Driver or Operator)

Your 'main contact reason' should be 'Other'

Your subject line should read

'Formal complaint'

, that makes it easier for us to find and deal with your problem/s

The reason for your complaint/a description of what happened

Details of the trip (such as date, time and pick up and drop off locations), incident or support interaction that the complaint relates to;

Any supporting evidence or information, including photos or screenshots;

The preferred outcome of the complaint.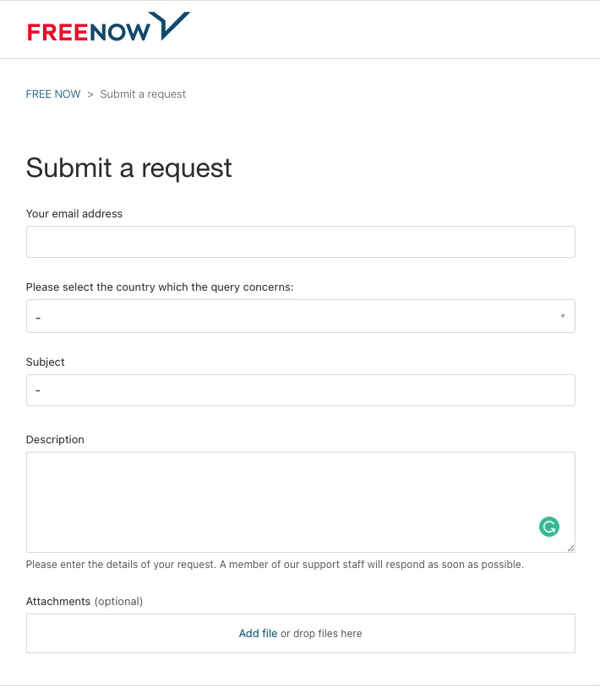 What happens next?
Once we receive your complaint, it will immediately be referred to the on-duty manager.
We're committed to providing you with an initial response, to let you know we've received your complaint within 1 working day. We'll then aim to complete an investigation into your complaint and have a response to you within 3 working days from the time of receipt. On the rare occasion that this will not be possible, we'll proactively let you know, and keep you informed. Just one final note – once our investigation is complete and we've provided you with an outcome, it's not possible to re-submit the same complaint for reconsideration.
Common complaints:
Payments & Fees

Technological issues

Issue with trip

Unhappy with service
As of March 2021 FREENOW UK have received 13 formal complaints